1. What are the pre-requisites for obtaining higher yield in zero tillage system?
For good crop stand in zero-till system, it is important that fields are properly levelled, kept weedfree, have sufficient soil moisture at planting time and the drill is properly calibrated and levelled. Residues of the previous crop, if lodged, create serious problem in the planting operations of the drill fitted with inverted T openers. It is better to use turbo seeder to overcome residue raking problems in combine harvested areas and also where previous crop has lodged. Drills with double disk coulters can also be used. If a normal zero-till drill is to be used for planting into loose residues, chopper should be used before zero tilling to facilitate an easier planting. Sowing with a properly maintained drill in paired rows helps improve crop productivity by nearly 5%. Paired row planting mimics raised bed planting in some ways and improved crop yields.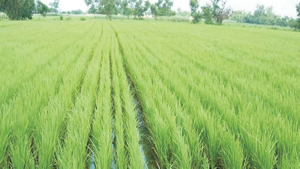 Paired row planting of rice
2. Do wheat yields increase with zero tillage?
Puddling in rice adversely afftect the wheat yields. In order to improve wheat yields, it is prudent that rice and wheat crops are grown as direct seeded crops or rice be transplanted without puddling. It facilitates timely planting and improves crop stand establishment and yields. Zero-till typically results in higher profits both through cost reducing (~ US$ 50-70 Rs 2,200-3,000/ ha) and yield enhancing effects. Experimental results suggest that zero tillage improves the productivity of wheat and other winter crops more in the eastern Gangetic plains than north-west plains. Yield data in figure (??) indicate that the benefits of timely planting could be as high as close to a ton/ha in eastern plains.
3. What is the magnitude of the productivity loss due to late planting of wheat?
Optimal wheat planting time in the north-west parts of the Indo-Gangetic Plains (IGP) was earlier considered to be around 8-15 November, whereas in the eastern Gangetic plains the second half of the November was considered best. Delayed planting can result in yield losses of 30-35 kg/ha/per day in north-west parts of IGP and 50-65 kg/ha/day in the east. More yield losses in eastern Gangetic plains are due to the shorter duration of cooler temperatures that favour wheat growth.
However, due to recent changes in climate, new emerging evidences suggest that it is better to plant wheat in the first half of November across the IGP.
4. How can ZT help farmers avoid late planting of wheat and other winter crops?
Sowing of wheat and other winter season crops often gets delayed because of the previous crop (late transplanting of rice crop, long-duration scented rice and cotton vacating the fields late in the season). The delays could be from 3-6 weeks using zero tillage machines. Farmer can plant wheat and other crops if he can enter his rice fields with a tractor without creating ruts.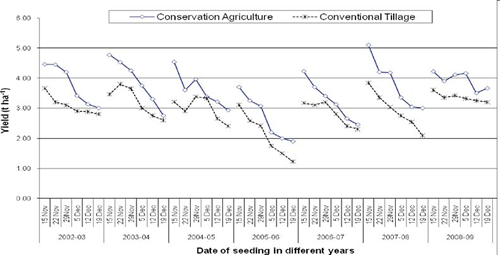 Wheat yields in conservation agriculture till and conventional tillage under different seeding dates for seven years (2002-03 to 2008-09) (Source: U.P. Singh)
5. How can wheat be planted if the rice soils are too wet or have passed the surface seeding soil moisture conditions?
Operation of the tractor in the wet condition spoils the level of the fields and creates ruts. To avoid late planting of wheat and other crops after rice harvest, it is best to go for surface seeding under such situations. If the soil moisture is relatively less than the optimal for surface seeding (soil moisture generally glistens on applying pressure), it is advised to toss the seed and irrigate to avoid delay in planting.
6. Can mungbean relay cropping into wheat make late irrigation for heat stress mitigation more profitable?
High temperature can shorten the grain filling period, hasten maturity, and reduce harvest index and the grain yield in wheat. In order to overcome the potentially adverse affect of heat stress, it is usually beneficial to irrigate wheat during grain fill. Many farmers, however, do not apply this last irrigation for fear of crop lodging. If mung or another suitable green manure crop is seeded into standing wheat and then immediately irrigated, two benefits can be realized from the late irrigation for wheat : mitigating heat stress and establishing a legume crop. Mungbean does not affect combine operations in wheat and will not itself be damaged if the cutting blade is raised by 15 cm above the soil surface.